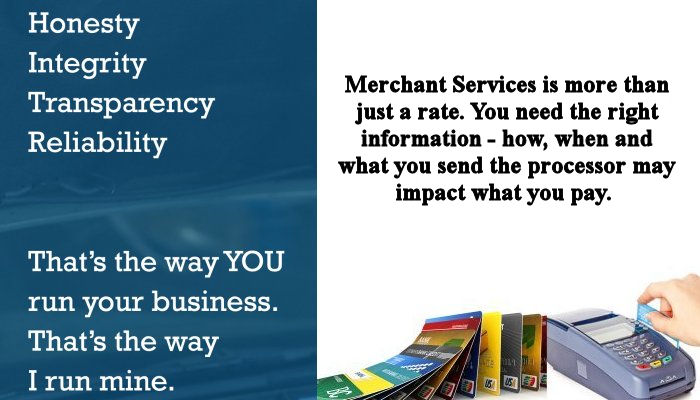 We've all heard the adage: Knowledge is Power. This is true in merchant services as much as anywhere else in the business world.
If you have taken credit cards in your business before with your own merchant processing account, you know that there are different ways that pricing can be calculated. They are all confusing and there seems to always be surprises.
Surprises can come from actions from your Merchant Services Processor, your sales agent, the card associations (Visa/MC/Disc/Amex) or from you, as the merchant.
Yes, the way you collect credit card information and send it to the processor makes a difference in your pricing. Your merchant company – that sales/service person who sold you the account should always make sure you know what to watch out for when taking credit cards.
Even if you are a small retail store with a regular credit card terminal – you need to know when to enter extra information. For example, Why does the terminal ask for tax sometimes? That usually means someone has given you a business card. The credit card companies give those card holders extra information. To help with that, they ask for information from you. If you enter the right information, you get a better price than you would have gotten if you didn't enter the information – Well Sometimes. Your processor may not be passing on the savings – but that is another article.
The point is you need to know "what" to enter "when" so you can avoid being overcharged. This is even more important in a Mail order/internet or Business to Business situation.
I was recently able to illustrate to a merchant prospect that, even though his "rate" was good, he was overpaying because the way he entered transactions on his terminal was making his transactions fall into a higher price range (credit card clearing level). Take a look at the comparison below: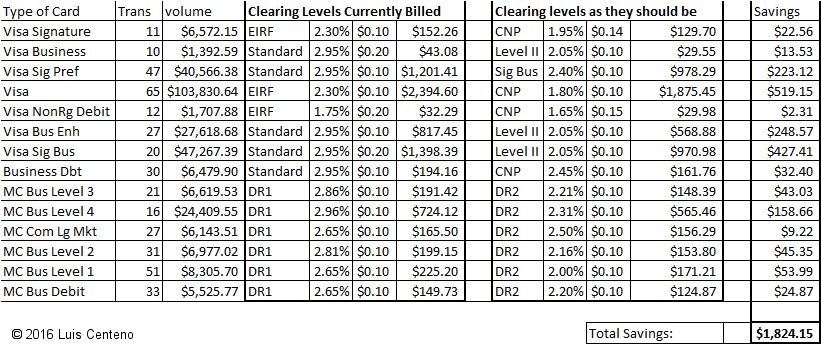 Just by changing how the information was provided to the merchant company qualified him for better pricing! He hadn't been given this information/training before so he was very glad he allowed us the opportunity to help him!
The right merchant services professional can help you save in a lot more ways than by just giving you a low rate. Every merchant is different. Contact me if you would like a review of your procedures.
In our next article we'll talk about how a "low rate" is not always as low as you might think.